Kid's Get Arty Link-up is a bi-monthly linky, all about exploring art and the great artists, having fun together and there are no right or wrongs - perfect! It's hosted by some fabulous blogs
Red Ted Art
,and
Mom 2 Posh Lil Divas
,
and we're very excited to be joining in. Do stop by some of these blogs and see some amazing and creative ideas linked up.
Shoeshine currently loves cutting with scissors so I thought it would be perfect for us to explore the 20th century artist Matisse and his technique of creating art with paper cutting, often described as "Drawing with scissors". Although much of Matisse's great works were painting, his later life was marked by an enthusiasm for creating art with paper cut outs, instead of using a paintbrush or pencil he did his drawing with scissors. He is also regarded as one of great artists of the twentieth century for his use of bold and vibrant colours. He said;
Instead of drawing the outline and putting the colour inside it... I draw straight into the colour'. The colours he used were so strong that he was advised by his doctor to wear dark glasses!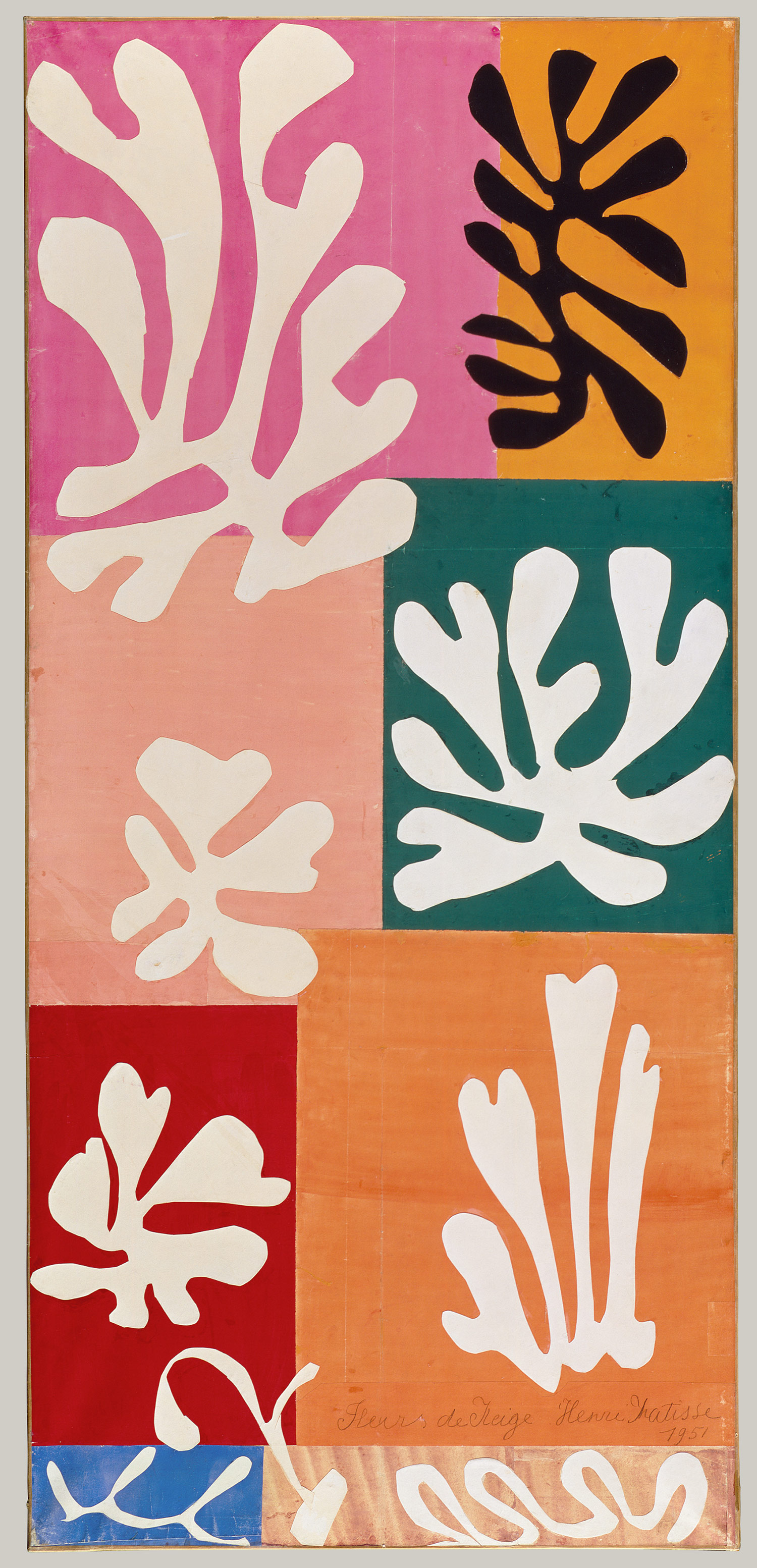 Matisse (top from left) La Gerbe (1953), The Sorrows of the King (1952).
(bottom from left) The The Snail (1953), Icarus (Jazz) (1947) and Snow Flowers (1951)
Together we had a look at some of his works of paper cutting, as Shoeshine is only 2 years 10 months we focussed on looking at mainly about different colours and shapes (currently we're working on not every colour being named pink!) Each picture he created was around a theme and interestingly Matisse usually worked with only 2 or 3 colours and used tints (white added) and shades (black added) of those colours to compose his pictures. Also his use of both positive and negative shapes is notable, as Matisse often used both the cut out shape and the remaining scraps of paper for his collages.
I gave Shoeshine a selection of coloured paper, scissors and glue and she got busy creating a collage of cut outs.
Using scissors is a brilliant activity for developing their fine motor skills.
It's good to encourage them to put the glue on the back on the shapes rather than all over the paper.
Although I wasn't always listened too and sometimes! We talked as she cut and glued about the colours and what other colours she might like to add.
As Little Chick is older (4.5 years) we talked about using the same colours but different shades and tints and we looked at what some of his pictures were about, the snail and the snow flowers. She found it really difficult to grasp that you could create a picture that didn't actually look like a real life version of what is was meant to be. She also found it really hard to have a go at 'drawing with scissors', she wanted to draw with a pencil and then cut out, she also wanted to create exact copies of some of his works.
To take a different angle I got our vase of tulips, as she particularly like Matisse's La Gerbe. I don't usually go for still life stuff at this age, as they can freeze and feel that their picture doesn't look 'real' enough for them, so we mainly talked about the flowers, I encouraged her to look at their shapes and the colours and describe them to me to encourage her to create her own picture using her scissors. I got some more shades of the colours she had chosen and sat with her doing a picture myself and talking as we did it together. She started some cutting out some shapes but didn't really want to do it then, so we left it all out for her to come back to over the rest of the week. Which she did and here's her picture of a vase with a tulip in a garden with butterflies and daffodils. I left out the paper, glue and scissors on a small table so they could return to it any time they wanted and over the week there have also been numerous other paper and glue shapes and mini pictures produced as spin offs from this activity (and lots of bits of colured paper round the house!), as Chick and Shoeshine have incorporated some of the ideas into their play and art in their free play time.
And here is my attempt at paper cutting art of the tulips (after reading all about Matisse's art I couldn't resist having a go myself!)